Fangoram
VS

Dungeons & Dragons

And their nerds...like....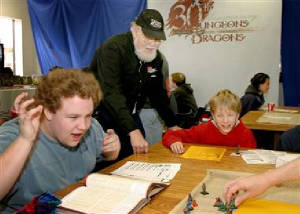 and....
____________________

*At D&D massive game-style tournament/convention type thing*

Bunji : Oh hey Zell, you got anything to say?

Zell : Yeah mate, all you guys are lazy slobs and will never get any, like Fangoram!

Fangoram : I GET FREAKY WITH COWEY!

Cowey : Moo.

Fangoram : ME LOVE YOU LIKE NO OTHER COW!!!

Zell : Well mate, that was just wrong, but that's still more than any of you nerds will get.

Bunji and Zell : Ha ha ha ha ha ha....we're funny.

D&D "Warlock Lvl 19" : You guys suck!

Bunji : That's Garino!

Garino the Lvl 2 Fairie : Hey!

D&D "Hergel Beast lv 14 1/2" : Ha! My level 7 the Noid pwns your farie!

Garino : Noooooo! Curse you Dungeonmaster....wait, if I cast my level 2 Fairie sleeping powder, along with my level 17 Herb-suck attack, I can avoid your Noid, and beat your ass....while pounding it.

Hergel : No!! ARRRGGGGBLLBLBLBLBLL!!!

Zell : Well, this has gone from absolutly horrendous to down right gay.

Bunji : Well, I think that is the closest that guy will get to being cool.

D&D Lvl. 20 Duetch Man Dwarf : Hey! My mom thinks I'm cool!

Bunji : Is that before or after she tucks you into bed at night?

Duetch Man Dwarf : Hey, I'm 23! I don't get tucked in!

Zell : Oh, sorry then. Is that before or after you pay her rent for letting you live in her basement?

Duetch Man Dwarf : *Starts Crying....*

D&D Head Dungeon Master : Hey, that's a little too low! Don't make me roll a natural 20!!!

Fangoram : I ROLL A CHICKEN SELECTS!!!

Dungeon Master : Best. Food. Ever.

Bunji : You can kind of tell by the size of your ass, fat...ass.....

Dungeon Master : THAT IS THE LAST STRAW! EVERYONE! PREPARE YOUR DIE AND GET READY TO ATTACK!!!

Zell : Ahh man....Bunji, how the hell we get selected for this crap?

Bunji : How the fuck do you think we did? Be making fun of Garino!...

*Flashbacky*

Strong Bad : Hey Homsar!

Homsar : How ya doing Stroooong Baaad?

Strong Bad : *Drops a huge anvil type thing with the words 'Heavy Lourde' on it, crushing Homsar completely*

*End Flashback*

Zell : Not that flashback, moron!

Bunji : Sorry...but that one was cooler. How it went down was......

Zell : Not another Homestar Runner Related one either!

Bunji : Damn.....

*Real Flashback*

Garino : OK you bastards, get in here.

Bunji : Ok you necroloving gaywad, shut up.

Garino : Again with the verbal abuse! It's like you guys get off on it.

Don : *A little farther away * YES! Oh Yes!.....Just a bit more.....there we go....OK, I need to change my pants... *Walks away*

Zell : OK, kill me now, please.

Sherry : That was the second weirdest thing I've ever seen.

Garino : What's the first?

Sherry : Harry's penis.

*There*

Harry : Hey!

Lee : I don't think your penis is weird Harry...

Bob : Hey, stop looking at him Lee....

Bear : I'm Bear Walken.

Harry : I hate you all. Why me, seriously, why me?

Maria : Maybe you shouldn't have killed everybody, bitch.

Big Daddy : Yeah....

Maria : Oh you shut up. I'm still mad at you from last week.

Dr. T : PORN!

Big Daddy, Bear, Harry : WHERE?

Maria : I am surrounded by imcompetent morons who wet themselves....

Lee : It was one time! And it was on accident!

*Back*

Zell : Well, off the topic of penis's, before Garino gets too excited...

Garino : Hey!

Sherry : Can I jusr go now? It's not like I'm going to be needed. I'll probably just be written out of the script anyways.

Garino : Yeah, damn writers....you can go...

Sherry : Yay! *Leaves*

Garino : Anyways, since you two are in the mood to make me feel like crap, you can go do the mission.

Zell : No, I can't go there...I have a past about that....

Garino : You mean this?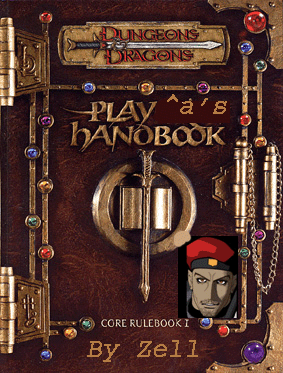 Bunji : Zell.....You wrote a Dungeons and Dragons handbook?!?!

Zell : IT'S A PART OF MY LIFE I'M NOT PROUD OF! It just started when I was a young punk.....I was always fighting on the rough streets of Aussieland Corner against rabid packs of koala bears.....just for EXP, to level up my most prized character....the almighty Giant Robot Dwarfling with the plus 5 Pad of Creativity! And then.....I.....I wrote a hand book! For all the "playas" of D and D.......That was my lowest point. But then I started drinking, and now, I am the man you see now. An Alcoholic Merc who can kill deadmen, command ruthless soldiers, and top-class Garino insulter.

Bunji : *crying...* That was the most heartwarming tale ever! We should put you on Oprah!

Zell : We killed her...

Fangoram : I NO GET LINES!!!!

Bunji : That's because we use you for randomness and comic relief. Both of which is un-needed.

Fangoram : 4TH WALL BREAKING AGAIN!!!!

Garino : Of course it does? Videogame characters interacting with real life people and situations? I mean, hello? Anyway, you assholes are going to a D&D con, and do something.....kill as many DMs as possible.....and stay out of my way.....

Zell : Can't guarentee the last one mate.....

Bunji : What's a DM?

Zell : I think it's some type of venereal disease that he has......

Fangoram : I THINK IT POOP!!!

Zell : Stuck on number 2, aren't ya mate?

Garino : Anyway, it means Dungeon Master. Now go, and get the hell out of my face!

*End Real Flashback*

Bunji : And that's how it happened.

Fangoram : STILL STUCK ON NUMBER 2!!!!

Zell : And I still hate you. Now, we have a legion of nerds coming straight at us with a crapload of dice....what should we do?

Bunji : I don't know.....kill them like usual?

Zell : That might have been the smartest thing you've ever said, mate.

Nerds : OH FIDDLESTICKS!

*SCENE DELETED DUE TO EXTREME +7 BASTARD SWORD IN ACTION AND WELL, YEAH VIOLENCE*

Nerds : *Dead*

Zell : Now, I can finally put this ugly chapter of my life behind me, and completely move on.

Bunji : Let's get a beer.

Zell : Holy crap, you're a bloody genious!

Fangoram : GGGGGGGGGRRRRRRRRRRRRAAAAAAAAAVVVVVVVEEEEEEEEEEE!!!!


*Meanwhile*

*At local Hospital*

Billy : I can't believe Spike and Mika got injured playing Magic : The Gathering.

Juji : Actually, it was eXtreme Magic : the Gathering.

Billy : Extreme?

Juji : Something that has to do with hitting eachother in the heads with blunt objects...

Billy : God, why do I always have to look after the retarded ones?

Johnny Damon : Because Grave just eggs them on.

Juji : Where the hell is Grave anyways?

Grave : *Outside*................

Billy : *From a Distance* No Grave, you can't jack any ambulances, this isn't GTA, you dumbass!

Mika : *From hospital bed* Tentacle porn!

Billy : How the hell....?

Spike : +4!

Billy : Johnny Damon, I'll give you all of Juji's money if you just make them shut up.

Johnny : Umm....no.

Billy : I hate you all.
______________________________

WINNAHS : ZELL, BUNJI, FANGORAM, JOHNNY DAMON! DON!

LOSAHS : NERDS! BILLY! GARINO! THE OTHER TWO MORONS!