Bob Poundmax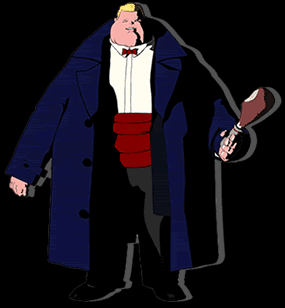 Bob from the game, fat like usual...
________________________
Ahh, there always needs to be a token fat guy in every game... and here he is...
Bob is one of the Big 4. Always hungry and with some sort of food in his hand. He met Harry when Harry was just beginning to work for Millenion. He's great when it comes to intelligence and gathering information, almost as well as he can make a buffet go bankrupt.
He doesn't usually get his hands dirty, but lets the others do it instead.
Spoilers: Highlight to see...
Yeah, he's the first real boss you face in the original game, but he's easy to beat.
He also comes back in OD after being fused with Lee and Bear... they're a little more difficult to beat...