Don Corsione...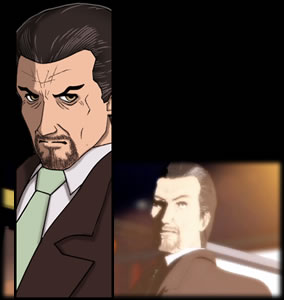 Don Corsione...Donny C...
_____________________________
Ahh, the Don...
Yeah, Don Corsione, real name Denito Corsione.
He's the leader of the Corsione and the adopted father of Garino.
He wants be be more than just a drug lord and uses Garino's Orgmen to complete that. He has Zell and Sherry under his command. He also has a sword that he uses, like that's gonna do good.
Spoiler: Highlight to view...
He's betrayed by Garino and turned into an Orgman who is a pain because half your shots won't do a thing. That and he has this one move that you can't get away from.