Fangoram....





VS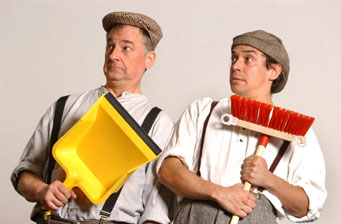 Two Dorks...err....SPRING CLEANING
Don : Ok you bastards, get the hell in here!

Garino : Hey! You can't say that! That's my line!

Don : Well, thanks to you idiots, I now have an extra asshole. I get to say the freaking line.

Garino : .....

Zell : Well, it makes me wonder...Don, which hole do you poo out of now?

Bunji : Yeah, I was wondering that myself. Do you have a choice now? Or is the other one primarily for your prison buddies?

Fangoram : ....Biologically speaking, he should be pooing out of his original hole, so the new hole should probably be healed up right now.

Don : NO! It didn't heal after the ungodly things those guys did to me in that cell!

Fangoram : Hey, do you like my pony? I named him Sinjaya.

Sherry : Ooohh! He's pretty!

Zell : Well, that's one damn fine looking pony.

Bunji : But...Sinjaya?

Fangoram : I was inspired by the greatest vocalist that ever walked the face of the Earth...Johnny Damon.

Sherry : Johnny can't sing....

Johnny : *Singing in a deep tenor voice* I can nooooowwwwwwwwwwwwwwww!!!!!!!!!!!!! whore.

*Johnny has roses thrown at him by...angels. And by *Angels* We mean Vlad.*

Vlad : What? I an angel.

Don : Anyway...wait, Vlad's here? Is it baseball season? Holy crap...

Vlad : That must of hurt. Which hole did the crap come out of?

Don : Hey Vlad...*middle finger*...right here buddy.

Vlad : Vlad is number 1!

Garino : Anyway...effen Puerto Ricans....

Vlad : Vlad have big baseball bat. You no have head.

Don : Swing for the fences!

Fangoram : Anyhoo....it seems that we're going to be doing some Spring Cleaning today around the mansion. Icallnotcleanbathroom!

Sherry, Zell, Johnny, Vlad, Don, Garino, Herb, Sinjaya, Calvin Coolidge, Mika, HX, HB : NOTIT!

Bunji : NA..Damn. *Walks off sadly towards the bathroom...* We have like, 20 people in the mansion and one bathroom...cheapskates...

Zell : I call the beer cabinet!

Sherry : That's not fair! You're going to drink them all!

Zell : Yeah! Spring Cleaning! Mika dear, you're on recycling duty.

Mika : Allright dad!

Zell : She's as annoying when I'm drunk or sober. I'm never sober.

Garino : I'll call Herb!

Don : *Smacks Garino* NO! You clean out Sinjaya's stable!

Garino : That sucks! Just like Sinjaya!

Fangoram : DO NOT MAKE FUN OF MY PONY!

Garino : *pff* whatever.

Sherry : I call being written out! *poof* *Magically replaced by...BILLY*

Billy : What the hell...screentime! Hey can I take her place...I'd love to be with all the ladies. All I ever get now is Gravemon. Gravemon sucks.

*Out of nowhere....*

Rock Lee : Hey, you suck tranny lover! *Disappears*

Billy : You little bastard...I will acquaint your head with my guitar!

Juji : Hey, I heard the word "tranny"!

Billy : Get the hell out of here Juji. No one likes you. Except OD experts....

Don : No...why don't you two clean out the Library?

Billy : Why me, God?...

Juji : I like cows.

Billy : Screw it, I'm just going to blow it up.

Juji : I can run with scissors, and not poke out my eye!

Vlad and Johnny : Yeah...we're going to go. Later! *Angels bring the two up to Heaven*

Fangoram : I wish to have an entrance like that one day...

Zell : You must not have seen the script for the end of the game...you get something like that...

Fangoram : wha....

Zell : Back to drinking! Hoorah!

Fangoram : I'm going to go clean the world of Pat Robertson again. It's a chore, but someone has to do it. Again.

Don : Have fun. It's not as if we haven't been trying for the past 3 years.

Fangoram : Well, today, Sinjaya and I found these new missiles, and we're just dying to try them out.

Zell : *From beer cabinet* Watch out, those might be Garino's love missiles. Hey...how did I get IN the beer cabinet? Mika?!? I can't breathe! Wait...Beer has oxygen it in, don't it? Well, let's test that theory.

Don : Even when he's off screen, the dumbass still gets all the lines.

Fangoram : Pretty sad, isn't it? Anywhoo, I'm off. Let's go Sinjaya! Let us slay the beast!

*They gallap off into the great unknown....meanwhile...*

Garino : Friggin' horse...pony...whatever. *Cleaning the horse poo...*

*Meanwhile*

Zell : Hey, this cabinet still isn't clean yet! I see some Jack Daniels still in here!

*Meanwhile....*

Fangoram : Pat, your evil deeds come to an end now!

Pat : You can not stop me! By the grace of God, I can now leg-press fifty million pounds, on one toe!

Johnny : No...that wasn't us. That definitely wasn't us. I mean, you suck at everything....we stopped affiliating with you at birth.

Fangoram : Now as the truth sets in....die! Garino Love Missiles of Doom!

*SCENE DELETED DUE TO EXTREME EWWWWWW NESS TYPE VIOLENCE....*

Pat : WHAT THE HELL! I'M ALL SOAKED IN...WHITE STUFF?!?!

Fangoram : Damn...ahh well, Sinjaya, Let's just beat him up.

Sinjaya : .....Ok.....

*SCENE ONCE AGAIN DELETED DUE TO EXTREME SINJAYA GETTING VOTED OUT WAS THE BIGGEST TRAVESTY OF JUSTICE SINCE THAT ONE TIME...AT BIBLE CAMP...ERR....TYPE VIOLENCE*

*Meanwhile*

Billy : Keep running with those scissors, Juji! I'll keep blowing this place up!

Juji : Yayyyy!!! ....Ow my eye!

Billy : Yes! My day has come!

*OH THE IRONY! Meanwhile...*


Sherry : Man...I gotta go. I hope the bathroom is clean. *Walks in...*

Sherry : Hey Bunji....

*She walks in on Bunji and GRAVE hugging.

Sherry : .....what the....

Grave : .......

Sherry : If I knew what you were saying, I'd be offended. But not....hurry up, Bunji! I gotta go!

Grave : ..................!!!!!!!

Sherry : Fine....*Walks out*

Bunji : Johnny made trees for a reason. I love you Gravey-poo.

Grave : .............

Bunji : Oh...my bad.

Grave : ................

Bunji : Grave....Mexicans do not do that with tacos.

Grave : ...........

Bunji : Or enchiladas.


_______________________________

WINNAHS : FANGORAM! BUNJI AND GRAVE! DON SINCE HE DID NOTHING! JOHNNY, VLAD, BILLY, AND JUJI FOR MAKING A RE-APPEARENCE!

LOSAHS : PRETTY MUCH EVERYONE ELSE!