Dr. T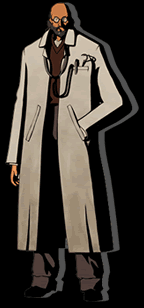 That would be him, he kinda scares me...
___________________________
The doc...
He's the one that brought Grave back to life. He's also responsible for replenishing Grave's supply of blood.
In the original game it looks lke they're hideout is a hous or something like that. In the anime though he resides in a huge truck.
when Mika came to him, he knew that it was time to let Grave do what he does best.
Spoilers: Highlight to see...
Dr. T. was originally captured by Ladd and sent to help with the Necrolization Project.
He was later killed while Grave was having his blood replenished. He died shielding Mika from the bullets.