Juji Kabane....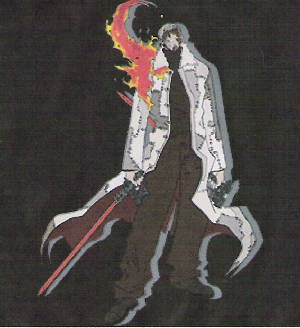 We'll fix the picture....
___________________
Juji Kabane.... The Badass with an attitude to match. He's got peashooters, I mean guns attached to his deadly blades. From the Kutaba school of martial arts. So in other words, don't screw with him. Unless you're Garino, who has screwed with him.....but he's out for revenge and won't stop until he gets it.
As a result of the experients Garino performed on him, He's blind, dead, and injected with SEED. But he can visualize with his eyes where he's going. Doesn't make sense, does it? Doesn't matter, he's still cool.
He found a guitar on his travels.....which was haunted. Crappy luck, right? Not quite, since that ghost was Billy. Now, they travel around kicking ass.
SPOILERS : HIGHLIGHT TO FIND OUT :
His real name is Juji Kugashira.....that's right, he's Bunji's brother. Kinda weird, eh? But, they're both cool.....So, yeah. That's pretty much it.
""THINK OF OTHER PEOPLE! BROTHER....HOW COULD YOU???"