Bunji Kugashira.....he was so damn cool, they brought him back from the dead just so he can make another appearence in Gungrave Overdose.....
Probably has the biggest fanbase among GG characters, other than Grave and Bear Walken.....
....Yeah, we're fans too.....Bunji's just oozing badassness.....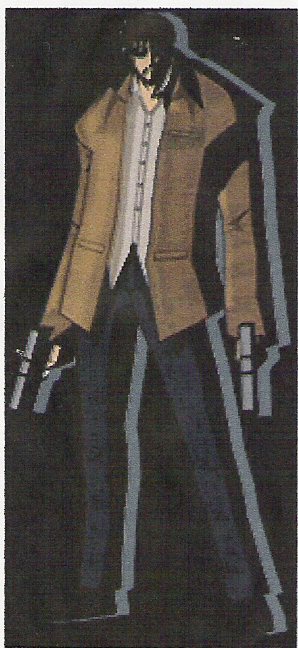 Bunji in the original game....

Bunji in the anime....
_________________________________________
Ahh, Bunji Kugashira....
In the original game, he was working for Millennion as one of the Big Four, along with Bob Poundmax, Balladbird Lee, and Bear Walken...
He has a past with Grave/Brandon Heat.....they've apparently worked together when Brandon was still alive. Brandon was a mentor/partner to Bunji, and together they formed "True Grave", a sweeper group....
Then Brandon died, became Grave, and Bunji's been out to get him ever since. They kinda had a falling out.
They have a showdown, which Grave wins. Bunji was apparently killed.....
............until he shows up in Overdose.
He's there with his old body, new powers, and the same smoking habit he's had, and he's looking for a final showdown with Grave....
SPOILERS : Highlight to see....
He has a younger brother named Juji. Yeah, it's Juji Kabane....they're brothers. It's weird, because he tells Brandon in the anime that he's an orphan....hmmm...well, orphan or not, his brother is Juji, who must also be an orphan! But yeah, they're brothers.
He also refers to Brandon as "his brother"....but, he means this in more of a past friendship type dealie.
Oh, apparently he dies at the end of OD. But if there's ever a GG 3, you know he'll show up again in some way, shape, or form....I'm guessing he's coming back as a cat....